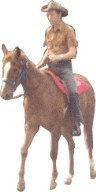 Jo Ann J. Lovelace
We looked at several horses before deciding to buy Kid Fashion. I already had a ten-year-old paint, and we were looking for a horse for my husband.
Kid was a two years old registered quarter horse and a far down the line descendent of Wimpy. His neck and legs were much too long for his body. His red coat lacked the shine I was accustomed to seeing. His feet looked about twice the size they should be for his skinny frame. I'll have to admit he wasn't very pretty. Yet, there was something about him that told me he would make a good horse.
The first time we went for a ride a helicopter flew over extremely low just about scaring Kid out of his wits. Roy was leading him at the time and Kid jerked the reins from his hands then raced to the barn like a streak of lightening. We found him huddled against the wall trembling from head to toe. We soon discovered there wasn't very much that didn't terrify Kid.
Roy thought we should sell Kid and look for another horse. I still wasn't ready to give up on him. My intuition kept nagging at me; I just knew Kid would turn out to be the horse we wanted.
We talked it over and decided to keep Kid. We worked hard getting him over his fear of things. He began spreading out; his neck and legs were no longer too long for his well-developed body. The small white specks were more prominent proving him to be the red roan stated on his registration papers.
We entered Kid in the catalog race at a fun show when he was four years old. His race blood came alive; he ran the professional size ring in sixteen seconds. At that time he had overcome his fears. He was twelve hundred pounds of muscles and he was a horse to be proud of not because of his strength and ability alone but his gentle nature and his desire to please.
We used the gentle approach training him and he was sharp as a tack. He learn to neck rein and take cues so fast it was amazing just to watch this huge horse perform who was once a scared to death skinny little two year old.
At seventeen Kid was still the wonderful horse we had trained. He never missed a beat when taken out for a ride. His memory served him well and he performed like it was only yesterday even though, it has been months since he had been ridden. My intuition was right and Kid made Roy a fine horse. Roy is glad and so am I that we kept this spectacular gentle quarter horse who turned out well above our expectations. We lost Kid several years ago due to a tumor. This was another time that we had to say goodbye. It was really hard losing this special friend but that beautiful red roan quarter horse lives on in our hearts.
Copyright © 1999 Jo Ann Lovelace. All Rights Reserved.