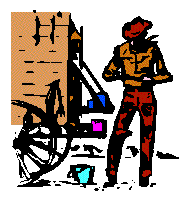 I reckon I've done my best, Lord,
'Cause that's what I've tried to do.
And hope Lord you'll welcome me,
When my life on earth is through.

Years have took their toil, Lord,
And I'm sorta tired I guess.
Ain't never been in want, Lord,
So this life of mine you've blessed.

Never thought about trival things,
Like working out in the sun.
Tried to do what you asked of me,
And hope that's what I've done.

Years seem to go by fast, Lord,
As I'm heading toward the end.
Lots have gone on before me,
And today I just lost a friend.

I went to church last Sunday,
Lotta empty space in the pew.
I'll work hard to fill 'em back up,
And anything else you want me to.

And I want to thank you, Lord,
For giving me one more hour.
Help me spread your word, Lord,
That's this old Cowboy's prayer.
Copyright © 2003 Jo Ann Lovelace. All Rights Reserved.