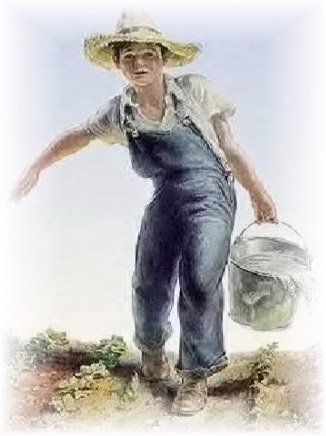 We went down a gravel road,
to go to Grandpa's farm.
We went by the chicken house,
the hog pen and the barn.

Grandma sat on the porch,
she was breaking green beans.
Grandpa worked in the field,
he had patches on his jeans.

Mom said I could stay,
until this time next week.
I watched as she drove away,
going down by the creek.

Grandpa came in for supper,
I knew that he worked hard.
And when the meal was over,
I went out to mow the yard.

I helped mend the fences,
we patched a broken rail.
So Grandma didn't have to,
I went to fetch the mail.

I dreaded the week ending,
wished I could stay longer.
Told Grandpa I'd help more,
once I had grown stronger.

I went back every summer,
til my grandparents passed away.
The old home place was sold,
It was sold the end of May.

I'll never forget those summers,
or the grandparents that I love.
And I know they are watching,
from their home up above.

Copyright © 2009 Jo Ann Lovelace. All Rights Reserved.