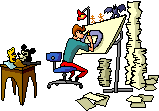 OPEN MOST DAYS ABOUT 9: 00 OR 10:00 AM.
OCCASIONALLY AS EARLY AS 7:00 AM, BUT SOME DAYS AS LATE AS 12:00 PM OR 1:00 PM.
WE USUALLY CLOSE ABOUT 5:30 PM OR 6:00 PM. OCCASIONALLY WE CLOSE ABOUT 4:00 PM OR 5:00PM. BUT SOMETIMES IT IS AS LATE AS 11:00PM OR 12:00 AM WHEN WE CLOSE.
SOME AFTERNOONS WE AREN'T HERE AT ALL, AND LATELY I HAVE BEEN HERE JUST ABOUT ALL THE TIME, EXCEPT WHEN I AM SOME PLACE ELSE WHICH I AM QUITE OFTEN. BUT I SHOULD HAVE BEEN HERE EVEN THOUGH I WASN'T.
BUT YOU CAN VISIT ME ON MY WEB SITE. IT'S OPEN TWENTY-FOUR HOURS A DAY, UNLESS IT IS DOWN FOR MAINTENANCE OR SOMETHING LIKE THAT.