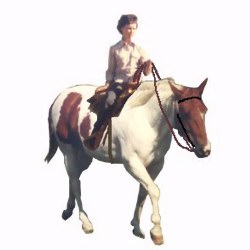 By Jo Ann J. Lovelace
If I only could,
I know what I would do.
I'd saddle up my old paint horse,
and would ride a trail or two.



We would ride through the meadow,
and enjoy the spring breeze.
We would enjoy summer days,
and dread the winter freeze.



But old Paint you're getting older,
and I'm getting older too.
So, I'll be satisfied,
just spending time with you.



Old Paint we'll walk around the barnyard,
reminiscing, walking side by side.
Remembering days that's gone by,
when we went out for a ride.
Copyright © 2001, Jo Ann Lovelace. All Rights Reserved.