By
Roy Lovelace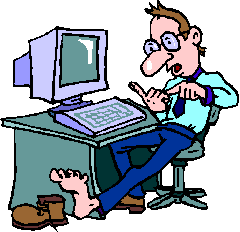 I went to the mailbox the other day to pick up my junk mail and was surprised to find a letter from Hacksaw. I thought he was havin' fun with his computer and we probably wouldn't see him for a while or at least till the new wore off. He put a note in with the letter and said to show everybody the letter cause it would be easier than trying to explain what happened. So I figured I would just bring it over here to Harold's Redneck Emporium and everybody could read it for their self. Here's the letter.
To anybody that wants to know;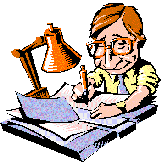 I've gone back to the mountains to live and may not ever come back. I've had enough of all this high flauttin' way of livin'. Here's my reason for leavin'.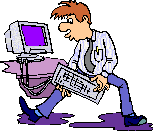 The other day I decided to sign up for Internet service with a local branch of a very large Internet Service Provider. I dialed the I-S-P number, then; Hello, Thank-you for calling Sometimes Internet, your call is very important to us, so much so that we have installed this automated system to speed the response to your concerns. Please listen carefully to the following menu; if you are calling about signing up for our Internet service, please press one now.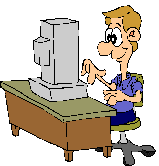 I pressed one and was transferred to a human quicker than you could say Hacksaw. In less than five minutes I was signed up for my new Internet service. Wow! I thought this sure is a good operation, I was sure I was goin' to be very happy with my choice. I spent a few minutes clickin' through the Sometimes Internet home screen and figured I may as well send all my young'uns my new e-mail address, then I signed off.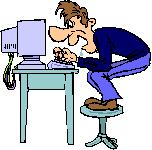 The next day I powered up my computer and double-clicked the e-mail program icon. I entered my password and got the followin' message; Dialing, 1 of 10 attempts . . . Please wait. I waited. Then I waited some more. After a while I noticed that it was still on the second attempt. So I decided to close the program and try again later in the day. My mouse pointer would not move. I could not get any response usin' keyboard commands. I was about to panic, I hit the Ctrl + Alt + Del keys at the same time, still no response. I turned the computer power switch to off. I turned the computer on again and went through the same routine with the same results. I shut down the computer again and called my I-S-P help number. You guessed it, I got the recordin' tellin' me how important this call was to them. After listenin' to all that stuff again I finally heard If you need technical support, please press two now.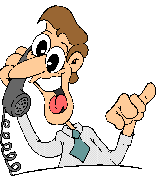 I pressed two and heard Thank-you for calling Sometimes Internet's automated technical support system. If you are having trouble connecting to the system please press one now. I pressed one and heard; You need a new modem, if you are having other problems as well press the pound key to return to the main menu. I pressed the pound key and waited for somethin' to happen. I heard elevator music for the next hour. Finally the voice advised me to press the star key to hear the main menu choices again. I tried all the choices on the main menu and all the sub-menus and they all responded with the same message; you need a new modem. Then I was advised to dial zero and wait for a technician. After about twenty minutes a pre-recorded voice says All technicians are currently serving other customers, please hold for the next available technician. Your call will be answered in the order in which it was received.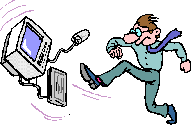 I've been sittin' here for eight days now, I'm sick of coffee and crackers, I can't stand the sight of doughnuts. I ain't been to the bathroom since I placed that first call for help. Everythin' I've got hurts, and I'm so constipated I may never go again. But if I can get back to that live person I'm cancelin' this service, throwin' my computer in the trash and movin' into the first cave I find even if I have to fight a grizzly bear to get that cave, right now I feel mean enough to whip an alligator with a toothpick.

Your friend,
Hacksaw