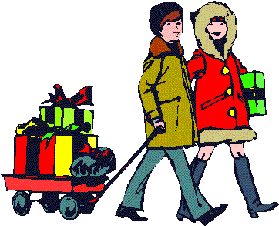 By Jo Ann J. Lovelace
Mrs. Montgomery watched from her parlor window as the Jamison twins decorated the large pine tree in their front yard. She thought about all the times she had put the huge artificial tree in front of the window, but this year the arthritis in her hands had prevented her from putting the tree together. There was no way she could manage to put up the tree much less decorate it this year she thought tears appearing in her eyes.
Mrs. Montgomery sat down in the over size rocking chair near the fireplace. It seemed a bit chillier than usual so she draped the red shawl around her shoulders she had knitted it some time ago before the arthritis had spread through her fingers. She reminisced the days when she was a child and all the children getting together and canvassing the neighborhood singing Christmas carols. Singing Christmas Carols appears to be a thing of the pass she thought as she dozed off to sleep.
The ringing doorbell awakened Mrs. Montgomery from a deep sleep. Who could that be, she thought. She walked slowly to the door to find Heath and Heather Jamison smiling from ear to ear. "We came over to see your Christmas tree Heath said, Heather loves to see the different ways people decorate."
"My tree is still in the closet," Mrs. Montgomery said. "I have trouble doing things like that now the arthritis in my hands has gotten worse. This will be the first year that I haven't had the Christmas tree in the parlor."
It isn't Christmas yet," Heath said. " Heather and I will put your tree up in the parlor and decorate it for you. Don't worry we'll come back and take it down for you too."
Mrs. Montgomery showed Heath and Heather where the tree was stored and to her surprise, the twins had the tree up and decorated in less than an hour.
"Where are your gifts?" Heath asked. "Heather and I will put them under the tree for you. Then the tree will be complete."
There aren't any gifts this year Mrs. Montgomery said. "But just having the tree up in its special place is enough."
"We better go home Heath," Heather said. "Mom will have dinner ready shortly." They wished Mrs. Montgomery a Merry Christmas and left.
Along about dusk Mrs. Montgomery heard singing. It seems to get closer and closer. The singing came from her front porch. Someone was singing Christmas carols. A smile spread across Mrs. Montgomery's face when she opened the door. Much to her surprise it was Heath and Heather. Their arms were loaded with Christmas gifts. She invited the twins in and they placed the gifts under the tree. "Merry Christmas Mrs. Montgomery," the twins said at the same time. "And a Very Happy New Year."
"I'm sure it will be," Mrs. Montgomery said. "And thank you for making mine a very Merry Christmas."

Copyright © 2000 Jo Ann Lovelace. All Rights Reserved.