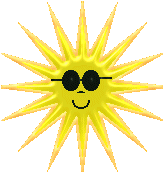 Good Morning everybody,
I just wanted to say hello.
I'm thinking about you,
and wanted to let you know.

Although, there's miles between us,
time together we often spend.
Keeping in touch with each other,
Through the e-mails that we send.

With e-mailing back and forth,
the miles don't seem as far.
E-mails makes it seem closer,
no matter where you are.

So, good morning everybody,
family and e-mail friends.
May the Good Lord bless you,
with happiness that never ends.

Copyright © 2002 Jo Ann Lovelace. All Rights Reserved.