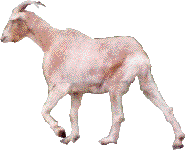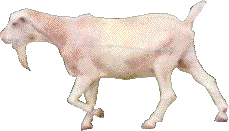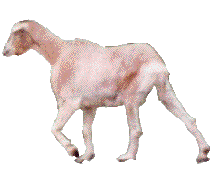 Heather hadn't thought about Mr. and Mrs. Rasnick and the goat incident in years. She was a Meals on Wheels volunteer and was given the Rasnick's address to deliver meals to. As she drove to the Rasnick's farm, it all came rushing back about the goats and all the problems she had because Mr. Rasnick bought three goats from her.
"Those goats have been in the barn again," Heather could hear herself shouting. "Where are you Billy, Nanny, and A-Frame"? A-Frame got his unusual name because his back legs were in the shape of an A-frame house.
Heather saw the goat's heads peeping out from behind the hay wagon. "Come out of there this instant," she yelled. "Look what you did. You've torn all the insulation off the water pipes, dragged the hose out in the middle of the floor, and pulled the pipe loose. Just wait until I get my broom. You'll wish you had stayed out of this barn."
Broom must have been the magic word. The goats almost knocked Heather down running out of the barn.
Heather went to the garage to get the wheelbarrow to clean up the mess. A-Frame was standing in the doorway of the garage, eating a page from her father's repair manual. Billy and Nanny were on top of the workbench dumping nails out and eating the boxes.
Heather grabbed her father's shop broom. "Get out of here," she screamed, waving the broom frantically. "Get out in the pasture and stay there."
That evening Heather's father tried to start the tractor. He checked it out and found the goats had chewed a wire off the starter.
"I see the goats have struck again," Heather sighed. "They'll eat anything they can get their mouths on."
"We may have to sell the goats," her father said regretfully. "I know you're very attached to them, but they've destroyed just about everything on the place."
The goats were nowhere to be seen, when Heather and her father started back to the house. As they got closer they could hear Heather's mother screaming at the top of her lungs.
Heather's mother had taken the screen out to clean the window. Heather saw one of the goats going through the window and was sure the other two were already inside.
Heather and her father ran into the house and found Billy and Nanny on the dresser eating her mother's lipstick. A-Frame was trying to get the perfume bottle open.
"That's all I'm putting up with," her father exclaimed. "I'm calling Mr. Rasnick. He's been wanting to buy the goats for a long time."
Mr. Rasnick arrived in a few minutes to get the goats. He loaded them in the back of his pickup truck, and had a big smile on his face when he drove away.
"I wish you hadn't sold the goats," Heather whispered. "They'll probably get into something and he'll bring them back anyway."
A week later Heather was surprised to see sheriff Tyson at the door.
"Good morning, Heather," the sheriff said in a cheerful voice. "I'm here because there's three goats at large. They just about scared poor old Mrs. Johnson to death. Two of them were fighting over which one was going to eat her petunias, and the other one was staring in the window. She thought old Satan himself was glaring at her."
"I'm sorry, Sheriff," Heather said bewildered. "The goats aren't mine anymore. Dad sold them to Mr. Rasnick."
"Thanks, Heather," the sheriff smiled. "I'll go tell Gus to put his goats up."
"I'll go with you, Sheriff," Heather said. "The goats will come to me if we can find them."
When Heather and the sheriff arrived at the Rasnick farm. Gus came out to meet them.
"What's the problem, Sheriff"? He asked. "I've not seen you out this way in ages."
"I've been getting complaints about your goats, Gus," the sheriff replied. "You need to get them back in their pen before Mrs. Johnson goes into a frenzy. They gave her quite a scare this morning."
"There's not much I can do about that, Sheriff," Mr. Rasnick said. "Those goats belong to Heather Parsons sitting there beside you."
"Heather told me her father sold the goats to you," the sheriff answered. "Who ever they belong to will have to keep them at home."
"Kids will tell you anything to stay out of trouble," Mr. Rasnick grinned. "You know how kids are."
"All right, Gus," the sheriff frowned. "I guess it's up to Heather and me to roundup the goats."
When they arrived at Mrs. Johnson's house, the goats were jumping around in the porch swing, causing it to beat against the house. Mrs. Johnson was peeping out the window with a terrified expression on her face.
Sheriff Tyson stopped the car and turned to look at Heather. "Since Gus denies buying the goats," he said. "I think it's best for the time being that you take the goats home with you."
"All right, Sheriff," Heather said. "But, Dad did sell them to Mr. Rasnick."
"Come on, Goats," Heather demanded. "Let's go home."
The goats followed her up the road like three little puppies.
That evening Heather was getting the mail from the box, when Mr. and Mrs. Rasnick drove by. Mr. Rasnick stopped his pickup truck in front of the gate.
"I guess I should take my goats home," Mr. Rasnick laughed. "I'm sure they've already been a lot of trouble to you."
"You told me you gave the goats back to Heather," Mrs. Rasnick snapped. "The way I see it, they're not your goats anymore. Get on down the road and stop pestering this girl, before I whack you with my purse."
Heather watched them drive away. Then hurried into the house to call her father at work, and explained what had happened.
"I can't imagine a grown man pulling a stunt like that," her father said. That really gets my goat."
"It sure does," Heather giggled. "Times three."
"I guess the best thing to do under the circumstances is to put a wire gate on the tractor shed and barn entrance," her father said. "We'll just keep the goats. You can take Mr. Rasnick's money back after supper."
After supper Heather went to give Mr. Rasnick his money. Mrs. Rasnick came to the door and invited her in.
"I've come to give Mr. Rasnick his money back," Heather said. "Since I'm the one that has the goats now."
Mr. Rasnick reached out to take the money. His yellow teeth showing when he grinned.
"Put that money back in your pocket, honey." Mrs. Rasnick urged. "This old goat here needs to be taught a lesson."
Heather tried hard not to laugh. Mr. Rasnick did resemble a goat. He had the same little beard under his chin.
"I'm giving Mr. Rasnick his money back," Heather insisted. "It isn't right for me to keep it."
"Oh, you're right, child," Mrs. Rasnick chuckled. "I'm wrong and I know it. You're a fine young lady, Heather."
On the way home Heather felt good about returning Mr. Rasnick's money, and she was glad to have her goats home again.
Heather was smiling as she pulled into the Rasnick's driveway. She went upon the porch with the two meals and Mrs. Rasnick came to the door.
"Well, as I live and breath it's Heather," Mrs. Rasnick smiled. "Gus, you ain't going to believe who's here," She yelled.
Gus came to the door slowly. You know Heather," Gus said. " I never did ask your forgiveness about pulling that stunt with the goats and I want you to know I'm sorry."
"And he is too," Mrs. Rasnick said. " He ain't never pulled a stunt like that since. He's always been square and fair with all his dealings he had with folks since that day. Gus ain't able to work now, but he is a changed man."
"I forgave you a long time ago Mr. Rasnick," Heather said. "It's really good seeing you folks again, and I'll be back next Sunday to deliver your meals."
Copyright © 1998 Jo Ann Lovelace. All Rights Reserved.