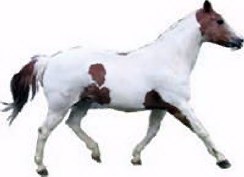 Roy and Jo Ann Lovelace

Ole Paint of mine
You're more than just fine.
And you know that you've got it made.
You're smart you're good
And do as you should.
And lay around all day in the shade.

You don't ask for much
Just breakfast and lunch.
And maybe an apple or two.
Some supper at night
And carrots are all right.
And enough hay to last the night through.

Then comes the dawn
You'll wake and yawn.
And the routine starts over once more.
While I clean your stall
You stand in the hall.
And you play with the top of the door.

You get a treat
By being real sweet.
Then munch on some alfalfa hay.
The stall door you tap
When you awake from your nap.
Wanting to go run and play.

I know that you can
Use your nose like a hand.
You unlatch the door to your stall.
I know you're having fun
Because when you're done.
All the horses are out in the hall.

You know how to add
How many carrots you've had.
And then you're looking for more.
Your apples you count
You know the right amount.
And the pieces you get should be four.

And then of course
You're a dirty ole horse.
You're sometimes hard to get clean.
We spend half of a day
To make the dirt go away.
We need a horse washing machine.

Copyright © 2001 Roy and Jo Ann Lovelace. All Rights Reserved.