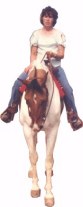 Jo Ann J. Lovelace
I don't recall even thinking about horses before my husband suggested going horseback riding. I remember making excuses that I didn't know how to ride a horse and we could get stepped on or even thrown. I just wasn't interested but since he grew up on a farm and it was important to him I finally agreed I would give it a try.
The instructor advised me to come in for riding lessons the following week. I still wasn't enthused about horseback riding. Yet I agreed to sign up for five beginners lessons.
The large bay quarter horse mare was all right that I took my first lesson on but I wished intensely the riding lessons were behind me.
The second lesson was on Nobility. I had never seen such a miraculous animal. His white coat was spotless and he was a perfectly marked tabiano paint gelding. Being a veteran show horse with forty-one points in halter and nineteen points in western pleasure he knew more about riding than I ever hoped to learn. He responded to ever cue with the perfect response. After an hours lesson on Nobility I was hooked on horses for life. I was anxious for the next lesson and couldn't seem to go to the stable often enough.
All I talked about was Nobility did this or Nobility did that. When my husband bought Nobility for me shortly after I finished with the lessons. I stood in front of the first stall in the barn staring at the well marked, ten year old paint gelding. I could hardly believe the fifteen hand high animal with perfect conformation belong to me.
I enjoyed riding Nobility but I also enjoyed walking with him and having him follow me around when I was working. I even enjoyed his pranks. He had an annoying habit of deliberately turning over a fully loaded wheelbarrow. When I stared into those huge mischievous sparkling brown eyes they appeared to be staring back at me in amusement. I couldn't bring myself to be angry with him. I found myself smiling as I shoveled the mess back into the wheelbarrow. I began referring to him as the Noble one and considered him my best friend.
Seven months after buying Nobility he foundered. We still boarded him at the stable. It was quite a shock when the manager called to inform me of his condition. We called the vet but he was also puzzle to the reason and to this day we still have no idea why it happened.
Nobility's condition was getting worse as the days passed. The first vet we called suggested we put him down. I knew I couldn't bear to even consider his suggestion unless there wasn't anything at all we could do for my Noble horse. The manager of the stable suggested we call another vet that he recommended highly and we did. We wanted to do anything we could to help that old paint. I have never regretted calling this vet. He did wonders for that old horse. He advised us what to do and we were able to keep my horse free of pain for eight years.
We spent endless hours everyday soaking and treating Nobility's feet and he began to show improvement. The Farrier we used was a blessing in disguise. He was always available to take care of the abscesses that appeared in Nobility's feet off and on over the years.
The vet the manager had recommended was a knowledgeable caring person who came within minutes if we had a problem we couldn't handle. He always took the time to explain in great detail what we needed to do and he listened intensely to our worries and fears.
Nobility spent eight years enjoying his life after he foundered. We became closer friends due to the time that was required taking care of him.
I spent an enormous amount of time with Nobility. Sometimes sitting on a tree stump next to the fence watching him play with my husbands red roan quarter horse. They were the best of pals and Kid became very protective of Nobility. He wouldn't let a dog near the paddock even though at the time I'm sure Nobility could have protected himself.
Other times I would sit propped against the fence reading a magazine article on foundered horses. I was hoping some miracle cure may have been discovered. His mischievous personality came alive when he noticed I was engrossed in reading. He would sneak over to the fence and pull the scarf from my head. He would shake it playfully and refuse to give it back until I insisted.
The years passed quickly and I knew in my heart when his foot became infected the last time that we were approaching the time I would have to make the most difficult decision in my lifetime. I checked on him several times that day and always stopped outside the barn to pick a handful of grass before going in. "I brought you something," I always said. Then I heard a nicker of delight coming from Nobility's stall.
It's been almost eleven years but tears still come to my eyes as I remember that last day. I think my husband and I both knew even before the vet arrived what the diagnosis would be. But we never gave up and kept hoping until we heard the words that we had dreaded coming for all those years. "There's nothing left to do but put him down."
The Noble one may be gone but the memories of the horse I loved lives on in our hearts.
Copyright © 1996 Jo Ann Lovelace. All Rights Reserved.