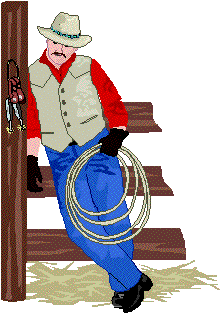 Lord, you've sent so many blessings,
this ole cowboy wants to thank you for.
I reckon if I was to count them all,
there shore would be a million or more.
Like my little younguns' there,
gathered around the Christmas tree.
'Cause as you already know, Lord,
they shore do mean the world to me.
Lord, I thank you for my wife,
and thank you for my humble home.
I thank you for another day,
and I wont spend Christmas alone.
I thank you we've got food to eat,
that was raised right here on this farm.
I thank you for them ole work horses,
that's bedded down out in the barn.
I thank you for my family,
that means so much to me.
When I count them blessings, Lord,
I'm as rich as I can be.
I'm thankful for all them answered prayers,
that you ain't never failed to hear.
And I'm thankful most of all, Lord,
Just knowin' that you're always near.
Copyright © 2001, Roy and Jo Ann Lovelace. All Rights Reserved.