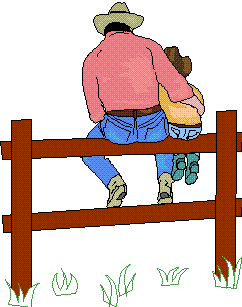 Come and sit with me,
my little Buckaroo.
Let's ponder for awhile,
what we're gonna do.

We'll mend some fences,
you can hold the nails.
Next we'll round up strays,
as we ride along the trails.

Herd strays into the pens,
then we'll close the gate.
Next we better gather eggs,
by then it'll be gittin' late.

But, first, I reckon.
I better rustle up some chow.
'Cause you look plum tuckered,
'and look purty hungry now.

Chow down my little Buckaroo,
Then put away your cap.
You can help again tomorrow,
right now you need a nap.

Copyright © 2005 Jo Ann Lovelace. All Rights Reserved.