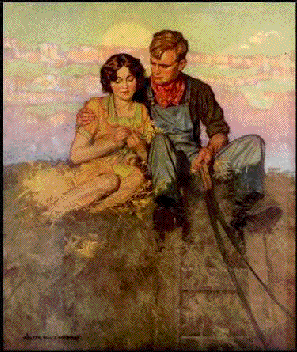 Home is where the heart is,
and ours is on this farm.
quiet and peaceful living,
gentle horses at the barn.

The daily chores are finished,
time for you and me to rest.
Thinking how the good Lord,
our lives has truly blest.

Sitting in the porch swing,
enjoying the summer breeze.
Our faithful dog at our feet,
birds singing in the trees.

Thinking back to years ago,
when we sat in Momma's swing.
You asked me to marry you,
on my finger you put a ring.

Getting married as teenagers,
sure in love we'd always be.
Now fifty-three years later,
we're still in love, you and me.

Copyright © 2008 Jo Ann Lovelace. All Rights Reserved.