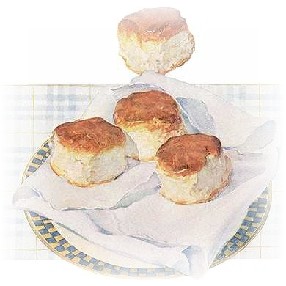 One large can of sweet potatoes (drained)
Bisquick (About 1/2 of a large mixing bowl)
Buttermilk (2 cups)
Cinnamon (for batter about 2 tablespoons full)
Cinnamon (for top about 2 tablespoons full)
Sugar ( 2 cups) (for batter)
Sugar (for topping about 1 cup)
One jumbo egg beaten
Add the 2 cups of buttermilk to the Bisquick and work up. It will be thick and not blended well when you are done.
Drain the sweet potatoes then mash and add the cinnamon and sugar. Add the beaten egg then blend in the flour. Keep adding flour until you can manage to get it in to a ball enough to get it on the cutting board. It doesn't matter if the dough is sticky as long as you can cut it out into biscuits. Once you have cut the biscuits out and have them on a cookie sheet put a dab of butter on top of each biscuits. Top each biscuit with about 1 teaspoon full of the cinnamon and sugar mixture set aside for the topping until the entire top of the biscuits are covered well.
Preheat oven to 450 degrees and bake 20 to 25 minutes. Watch closely since ovens vary.