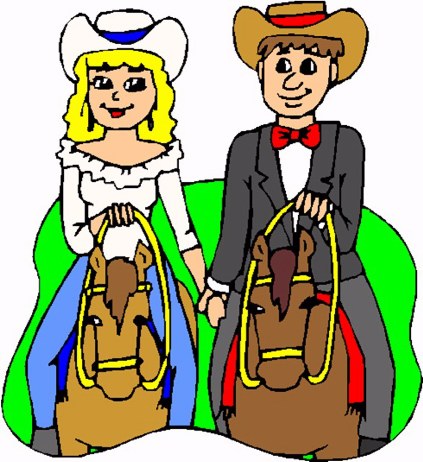 This time we have a very funny story to tell about a couple of trail riders, this young guy and girl come in wanting to rent a couple of horses for an hour, the girl was cute in her actions, she was almost drooling over the young guy who was decked out like a cowboy even to wearing a cowboy hat.
The young guy asked if we had two horse available, and I said yes, however I told them it looks like rain and you could very well get drenched on your ride back in or maybe even before your time is up. The young guy said that was fine a little rain wouldn't bother them any, he asked what the two horses for an hour would be, I told him, and he reached in his back pocket, got his billfold and gave me the money which I did owe him change, He had put his billfold back in his pocket and where I give him the change he put the change in his shirt pocket, snapped the pocket closed, and said they were ready to go for their ride.
The girl looked up at him almost in a trance, and she said, cowboys are like that, yeah they are. It was all I could manage to do to keep from laughing, however I did manage not to laugh until they were gone, it was so funny just watching that starry eye girl who was sure she was in love with her cowboy, and who knows, maybe she was.
I decided I would give them the two horses that were asked for more than any horses there, although the two love birds had never been there to ride before, I thought that pair would be good horses for them, and they were.
I watched as the two love birds went up the trail then they were out of sight, their hour was almost up when the rain started, and not too long after the rain was coming down the two come in pretty much soaking wet, however the young guy had given the girl his cowboy hat and she at least had a dry head when they made it back in to the office to turn in the horses.
After I put the horses under the shed out of the rain, I watched the young cowboy and his young cowgirl girlfriend climb in to his 4x4 pickup, and off they went happy as two peas in a pod, or maybe should say, happy as a lark, or like two turtle doves……….